I almost can't believe it's been almost six months since my last update. I use this file almost every day. Which maybe is why I haven't gotten around to updating. I've been working a lot, working more (freelance in my "spare" time),
writing a book
for O'Reilly, and editing an entirely other book. When that comes out, I'll also be sharing the file I've used to make all those illustrations. But for now, I've got a few updates all throughout the old, well-used Mobile Design Elements document itself. As always, you can grab these from the same wiki where I'm writing the book, on the
Drawing Tools & Templates
page, where I also put up every other template, stencil and UI guideline document or link I can find. Remember, it's a wiki, so add your own if you find one. So, like I said, there are little changes all over. Mostly in the small components. But a few highlights: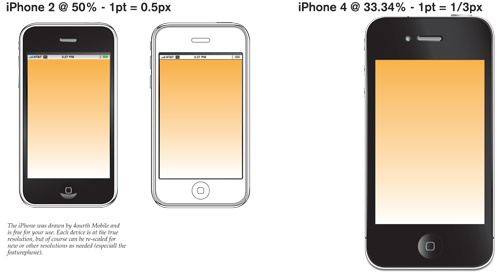 I've added an iPhone 4. Keeping to the resolution scaling didn't work for the doc size, so I had to make it different. Keep in mind. Just noticed I didn't get an annunicator row into the 4... Oh well. Sure, there are lots of places that have iOS device stencils, but if you like mine, now you have one.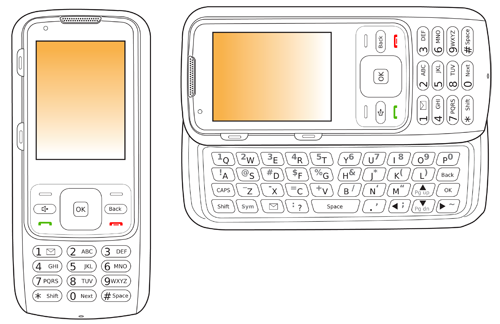 Compared to the smartphone fanbois, not everyone has this one. A featurephone. Specifically, a convertible one with 10-key one way, and a slide out keyboard. This is in outline mode only right now, but I will probably shade it someday, and will post that as well of course.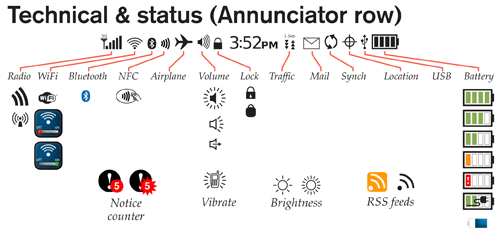 Speaking of annunciators, I am trying to not just add items, but to organize them. So, all the system status items I could think of (actually, which resulted from research for the
relevant section
of the book) are now ordered like a typical annunciator row, and options have been added as I encounter them. Be sure to wander around and check out the rest. Pen input bits and pieces. More unscaled handsets for illustration. Lots of little icons and other pieces. A wholly new and fairly complete
keyboard
section, so you don't have to draw your own for quick comps. And more. Enjoy! Now, off to more writing and drawing.